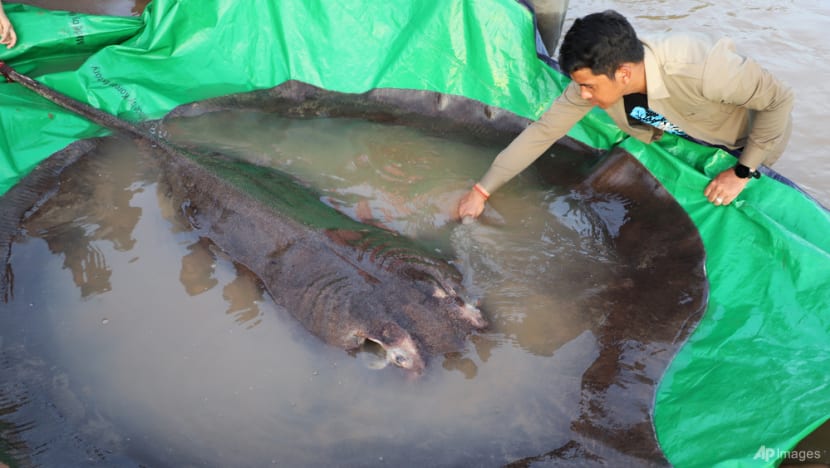 Phnom Penh (MGO) – Another freshwater giant stingray, which weighed slightly under 300 kg has been caught on the remote Island in the Mekong River in Cambodia.
The stingray, captured on Jun 13, measured almost 4m from snout to tail according to a statement released on Monday by Wonders of the Mekong, a joint Cambodian-US research project.
The stingray was snagged by a local fisherman south of Stung Treng in northeastern Cambodia. The fisherman alerted a nearby team of scientists from the Wonders of the Mekong project, which has publicized its conservation work in communities along the river.
The team that rushed to the site inserted a tagging device near the tail of the mighty fish before releasing it. The device will send tracking information for the next year, providing unprecedented data on giant stingray behavior in Cambodia.
Researchers say it's the fourth giant stingray reported in the same area in the past two months, all of the females. They think this may be a spawning hotspot for the species.
Local residents nicknamed the stingray "Boramy", or "full moon", because of its round shape and because the moon was on the horizon when it was freed on Jun 14. In addition to the honor of having caught the record-breaker, the lucky fisherman was compensated at the market rate, meaning he received a payment of around US$600.
The Mekong River runs through China, Myanmar, Laos, Thailand, Cambodia, and Vietnam. It is home to several species of giant freshwater fish but environmental pressures are rising. In particular, scientists fear a major program of dam building in recent years may be seriously disrupting spawning grounds.
Translator: Leakna